Rooftop Solar Panel System Can Help You Power Your Ontario Home
Rooftop solar panel systems are becoming increasingly popular in Ontario. The reason is simple: they're cost-effective and easy to install.
A rooftop solar panel system is composed of photovoltaic (PV) panels that convert sunlight into electricity, batteries that store the electricity, and an inverter that changes the direct current (DC), which is then produced by the PV panels into alternating current (AC) that people can use to power your home or business.

Table of Content

Rooftop solar panel systems are ideal for homes and businesses in Ontario because:
They're cost-effective. The payback period for rooftop solar panel systems is typically less than 10 years. Once installed, you'll continue to save money on your energy bills every month for years to come.
They're easy to install. Rooftop solar panel systems are designed for homeowners who don't have experience installing electrical wiring or other hardware. With just a few simple steps, you can install a rooftop solar panel system yourself or have an installer do it.
They're environmentally friendly. Rooftop solar panel systems help reduce your carbon footprint by lowering your dependence on fossil fuels and reducing your contribution to greenhouse gas emissions in Ontario and around the world.
So if you're from Ontario and want to power your home with renewable energy, consider installing a rooftop solar panel system. It's an investment that will pay for itself many times over and help you do your part in protecting the environment.

With Canada Greener Homes Grant, your are available through this initiative:
Receive $5600 grant for your solar system
Receive up to $40,000 Interest-free loans with a repayment term of 10 years
Reduct your hydro bill up to 100% through Ontario Net Metering Program

The Advantages of Installing Rooftop Solar Panels on My Ontario Property
We have mentioned several advantages to switching to solar power for your home or business. Here we wanted to provide a little more detail on the benefits of going solar in Ontario specifically:
1. SOLAR POWER SAVES MONEY AND LOWERS ENERGY BILLS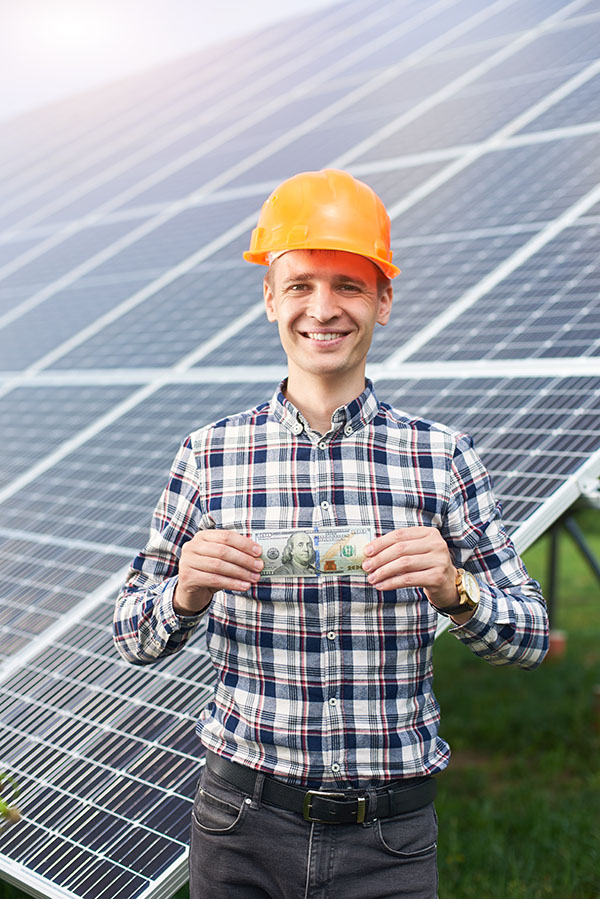 Solar power is one of the most abundant sources of energy on Earth. It's also clean, renewable, and free from many environmental problems associated with other types of energy production. Solar panels can be installed anytime during construction, so they don't require significant changes to your building plans.
According to the Ontario Power Authority, the average home in Ontario consumes about 1,000 kilowatt-hours (kWh) of electricity per month. Installing a typical 9 or 10 kilowatt (kW) solar PV system on your roof can offset about 100% of that electricity consumption.
Over the 25-year expected lifespan of the solar PV system, you would save a total of $30,000+ in energy costs. And because solar PV systems increase in value over time as electricity rates continue to rise, your savings are likely to be even higher.
2. SOLAR POWER ADDS VALUE TO YOUR PROPERTY
Solar power is not just a way to reduce your carbon footprint but also a long-term investment that can add value to your property. The most obvious benefit of solar panels is the money you can save on your electricity bill. Still, the real value comes when you sell your home.
According to Lonnie Golden, professor of public policy at George Washington University and co-author of The Economics of Photovoltaics: An International Perspective, "solar has become an asset class unto itself." This means that as more people install solar panels on their roofs, more buyers will look for homes with solar panels when they buy a house.
This demand creates higher prices for homes with solar panels because they have extra value over comparable houses without them. In addition, buyers who know that the home has solar panels may be willing to pay more for it because they know about this added benefit right away instead of figuring out how much it saves them in the long run and whether or not it's worth it for them.
Zillow, the online real estate database, found that solar panels added an average of $15,000 to the value of a home in California. A study by Lawrence Berkeley National Laboratory found that buyers were willing to pay a premium of about $4 per watt for homes with solar PV systems, which equates to about $20,000 for a 5-kilowatt system.
3. SOLAR POWER IS GOOD FOR THE ENVIRONMENT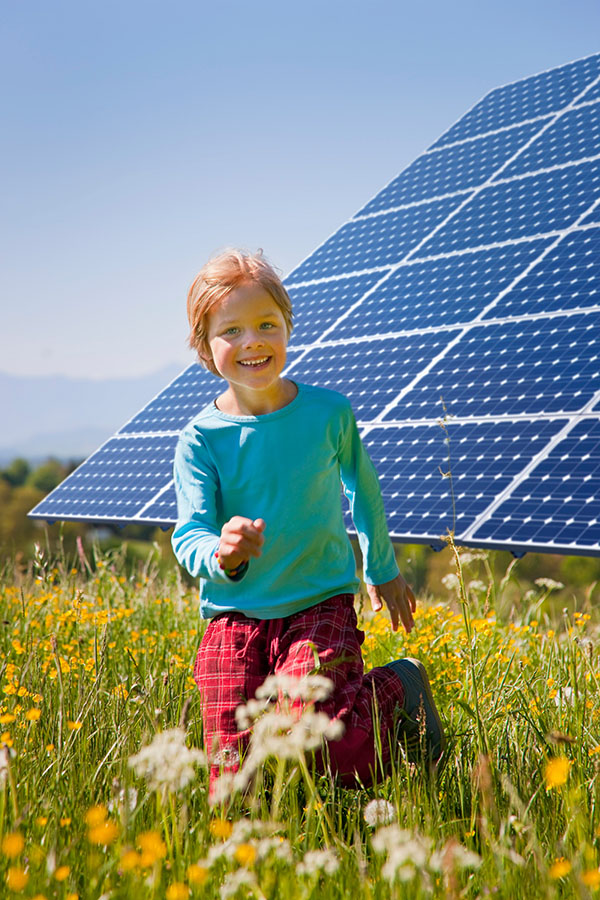 Solar power is a source of clean energy that doesn't pollute our air or water like other forms of energy production.
It reduces our reliance on fossil fuels and helps us avoid the greenhouse gas emissions associated with using fossil fuels like coal and natural gas (which produce carbon dioxide). It also reduces our dependence on nuclear power plants since they produce radioactive byproducts that are hazardous to people and animals.
Solar power doesn't require mining for raw materials like coal, oil, or uranium, which means it doesn't consume large amounts of land space or cause deforestation to make way for mining operations.
In addition, solar panels don't emit greenhouse gases during their operation as fossil-fueled power plants do. So they're better for the environment than other types of sources of electricity generation like coal-fired plants (which produce about 2.1 pounds of carbon dioxide per kilowatt-hour) or natural gas plants (which produce about 1.2 pounds of carbon dioxide per kilowatt-hour).
Solar power is a renewable resource that will never run out like fossil fuels. So it's a sustainable source of energy that can help us meet our energy needs into the future.
4. SOLAR POWER IS CHEAPER THAN EVER
The cost of solar panels has fallen dramatically in recent years, making it more affordable than ever to go solar.
In 1977, a typical residential solar PV system cost about $76 USD per watt. Today, the cost is less than $3 USD per watt — and it's projected to continue falling in the future.
The price of solar panels has fallen so dramatically that it's now cheaper to generate electricity from solar than coal in many parts of the world. And it's getting cheaper than natural gas in many parts of the United States.
The price of solar is falling so rapidly that it's expected to reach grid parity — the point at which it's cheaper to generate electricity from solar than from fossil fuels — in most of the world within the next few years.
Grid parity has already been reached in many parts of the world, including Germany, Italy, Spain, China, India, and Australia. In the United States, it's been reached in Hawaii and some other states with high electricity prices.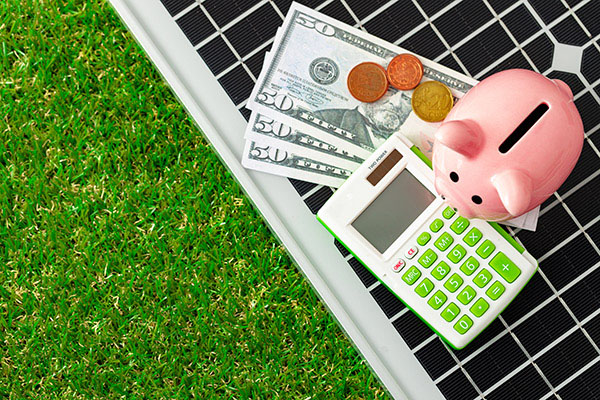 5. SOLAR POWER IS A SMART INVESTMENT
Solar power is good for the environment and your wallet — it's also a wise investment.
Investing in solar can save you money on your electricity bills and increase the value of your home. In fact, going solar has been shown to increase the value of homes by an average of 3-5%.
And because solar panels have a lifespan of about 25+ years, you'll continue to save money on your electricity bills for decades to come.

CONSULTATION AND INSTALLATION PROCESS STEPS
You're now convinced to make the switch to solar energy. Here's what you can expect from the consultation and installation process:
Book a Free Consultation and Assessment. A solar consultant will visit your home to assess your energy needs and determine if your home is suitable for solar. If it is, they will provide you with a proposal outlining the cost of the system and the estimated savings you'll experience on your electricity bills.
Initial Quote and Proposal. Once you decide to go ahead with the installation, we will continue to next step
Home Energy Grant, Net-Metering and Building Permit Application. This process will take around 4-8 weeks.
Installation and Inspection. A team of solar installers will come to your home and install the solar panels on your roof. The installation process usually takes 2-3 days.
Monitoring and Maintenance. After the installation is complete, you'll be able to start generating your own electricity — and saving money on your electricity bills!

WHY CHOOSE US?
There are a lot of solar panel installers out there, so why choose us? Here are a few reasons: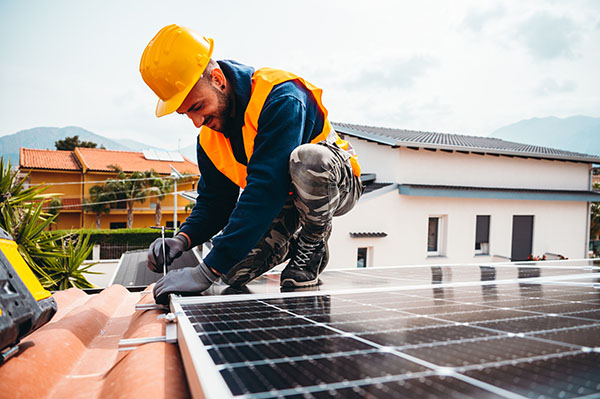 We're a local company installing solar panels in Ontario homes. This means that we know everything about the solar industry in Ontario — from the government incentives that are available to the best way to install solar panels on your roof.
We're passionate about solar energy and its potential to transform our economy and protect our environment. We truly believe that solar power is the energy of the future, and we're dedicated to helping Ontario homeowners switch to this clean, renewable energy source.
We're experienced and professional. We have a team of certified solar installers who will install your solar panels quickly and efficiently. And we have a customer service team that's always available to answer your questions and help you through the process.
So if you're looking for a solar panel installer that you can trust, look no further! Give us a call today to schedule your free home solar assessment.